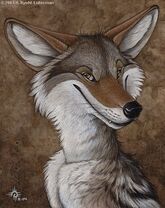 Pack Name: Rebel Alliance
Spirit Name: Ivan the Fool
Spirit Nature: Cunning
Spirit Type: Coyote
Creation Date: April(?) 2009
Arrival Date: November 2009
Departure Date: Active
Members:
Notes: Points of interest.
Territory: (None Yet)
Totem Points : 11/11 Used
Power        : 10
Willpower    : 3
Rage         : 3
Gnosis       : 4
Powers       : Find Pack, Speak to Pack, Extra Member Can Use Boons
Charms       : Airt Sense, Reform

Community content is available under
CC-BY-SA
unless otherwise noted.