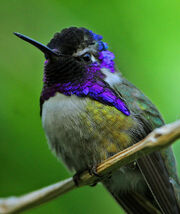 Pack Name: Onslaught
Spirit Name: Evin
Spirit Nature: War
Spirit Type: Hummingbird (6)
Creation Date: November 2009
Departure Date: Active
Members:

Notes: Points of interest.
Gnosis Feeding Schedule:

Monday: Rommy
Tuesday: Noisemaker
Wednesday: Sidney
Thursday: Heather
Friday: Rommy
Saturday: Noisemaker
Sunday: Sidney
Gnosis spent on the above days can be regained on the same day through normal methods. Make sure to do the necessary roll before any ONSen (etc.) to see if that Gnosis is or is not regained.
Territory: The Bawn: North Forest (#112), West Forest (#109), Crater Ridge (#340), and nominally the Caern (#130) which is ultimately the responsibility of the Warder.
Totem Points : 18/18 Used
Power        : 10 + 13 + 10 (1) = 33
Willpower    : 1 (+4) + (+3) = 8
Rage         : 1 (+2) + (+3) = 6
Gnosis       : 1 (+1) + (+0) = 2
Powers       : Pack Communication (4), Speak With Pack (1)
Charms       : Airt Sense, Reform, Blast (2), Swift Flight (2)